BodyTite PRO is a minimally invasive procedure that shapes, contracts, and lifts without large incisions that leave visible scars. You are left with surgical-like results without prolonged downtime. It is a safe, effective, and exciting procedure that offers patients significant aesthetic changes. Procedures can be done in our office without anesthesia. Board-certified plastic surgeon Dr. Marvin Spann and board-certified dermatologist Dr. Candace Spann are pleased to be able to offer BodyTite to their patients who want to sculpt their bodies and achieve optimal correction without the downtime, large scarring, and invasive procedures normally associated with this type of surgery. To learn more about BodyTite, schedule a consultation at Couture Dermatology & Plastic Surgery in Las Vegas, NV.
BodyTite PRO is the latest minimally invasive body contouring procedure delivering exciting results that rival traditional liposuction surgery. BodyTite PRO uses RFAL (radiofrequency-assisted lipolysis) technology that addresses some of the shortcomings associated with traditional liposuction or surgical body lifts. BodyTite can be used on most areas of the body, including your stomach, arms, chest, knees, as well as your inner and outer thighs.
Reviews
"I could not be more pleased with my results. I would recommend Dr. Spann without hesitation."
- Anonymous /
Other /
Aug 07, 2020
"Kasie is so professional, kind and understanding. I came to her with a concerning mole. She removed it without a problem. It was so quick and painless. The healing process went well with the aftercare she provided me. I will continue to return to Kasie for future needs."
- M.R. /
Yelp /
Jul 24, 2020
"I'm new to Vegas and very happy that I found this dermatology practice. The office is run exceptionally well, immaculate and is doing exceptionally well as it relates to managing C19 mitigation steps. I felt very safe in this environment. There was no wait time and all calls to the office were responded to in a reasonable period of time. Dr. Candace was simply the best. She is professional, concerned about your health issues, knowledgeable and very confident. She's also a very good listener which is something I appreciate. I highly recommend this practice."
- L.L. /
Yelp /
Jul 16, 2020
"Thank you Dr. Marvin Spann for the wonderful job you did on my breast surgery and Liposuction!!! The results far exceed any expectation I held! I look and feel amazing!!!  My clothes fit better, I carry myself more confidently, and I'm constantly receiving compliments on how I look. Friends and coworkers can't pinpoint the reason, and they can't get over how great I look  ;)   I started offering to show my breasts to everyone after surgery because I was so happy with, and proud of, the results!!! Dr. Spann's is phenomenal!  Every single person who has seen my breasts, post surgery, both clothed and unclothed is floored.  The comment I get most is "They look real!".  Can't get better than that! Dr. Spann was attentive and his perfectionist nature meant every detail was thought about and my breasts were perfectly executed.  I did not experience too much pain and was back to work (being mindful) a week later!!! I was worried that because of my liposuction I would be badly bruised and have significant pain (a friend had it done 6 months earlier (NOT BY Dr. Spann) and she was bruise beyond recognition and in pain for weeks and weeks following her procedure)).  My experience could not have been more different!  My bruising was minimal, as was my pain.  The compression garment that I was given allowed for using the restroom without having to take it on and off, which is brilliant and saved me a lot of discomfort! The results?  Wow! WOW!!!  For me it was transformative both physically and mentally!  I now wear skinny jeans, something that would have NEVER happened before. Finally, thank you to the wonderful staff for their professionalism and skill in making my journey through this process, effortless. The office is beautiful. You are greeted as you walk through the door by the lovely reception team.  Everyone I interacted with was kind, patient and available throughout the process beginning to end. They were never bothered to answer questions and always returned calls promptly."
- N.B. /
Yelp /
Apr 12, 2020
"Wonderful service from initial consultation to follow up post-op. Dr. Spann is kind, helpful and professional and made me feel more than comfortable throughout the entire process. I highly recommend him and his team for their service and exceptional work. I am thrilled with my results and thankful to them!"
- C.C. /
Yelp /
Apr 06, 2020
Previous
Next
Almost anyone who wants to look their best or has concerns about sagging skin can benefit from BodyTite treatments at Couture Dermatology & Plastic Surgery. BodyTite PRO is a great solution for men and women who want to reduce stubborn areas of fat and improve their skin tone with a minimally invasive treatment. BodyTite PRO can help to tighten your skin after weight loss or as the result of natural aging. During your consultation, we will listen to your needs and goals before designing a custom BodyTite treatment plan that will deliver your best results.
Your BodyTite procedure will be performed in our office, typically lasting approximately four hours. BodyTite is a minimally invasive procedure performed under local anesthetic or light sedation. Depending on what area(s) you are having treated, this time may vary and you will be given a more exact time estimate during your consultation. The advanced BodyTite applicator is inserted through very small incisions in your skin. The heat used during the fat removal will tighten your skin and connective tissue for visible skin contraction. After your treatment is complete, the small incisions will be cleaned and dressed so you can be put in sculpting (compression) garments.
You must have someone with you to drive you home after the procedure. After the procedure, you should go home and rest. You should wear your sculpting garment 12 – 24 hours a day for up to ten days. You will see results immediately, and your skin and contours will continue to tighten and reshape over the next 4 – 6 months. The sculpting garment helps this process and speeds your recovery. Total downtime will depend on what area you had treated, as well as the number of areas treated but can be from 2 – 10 days.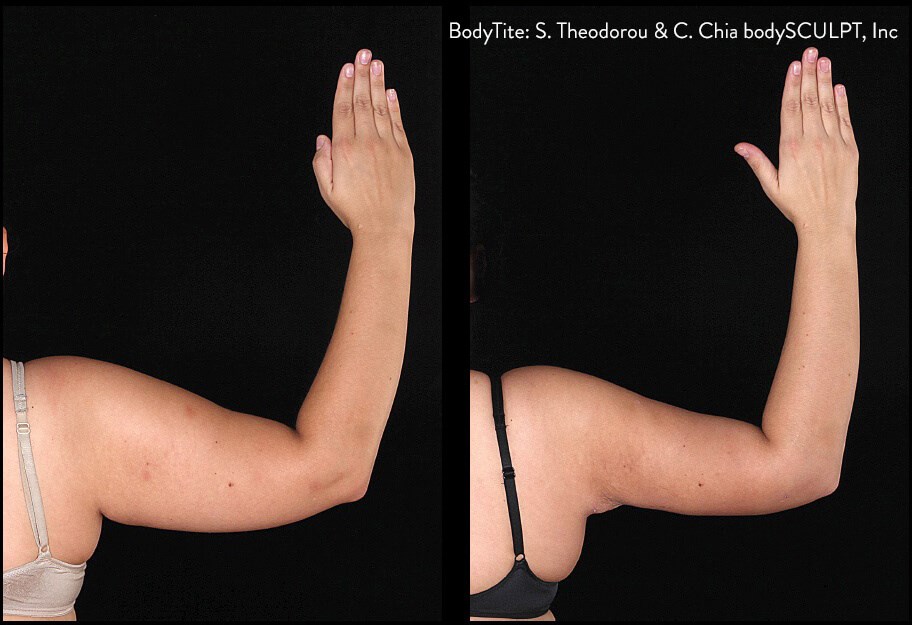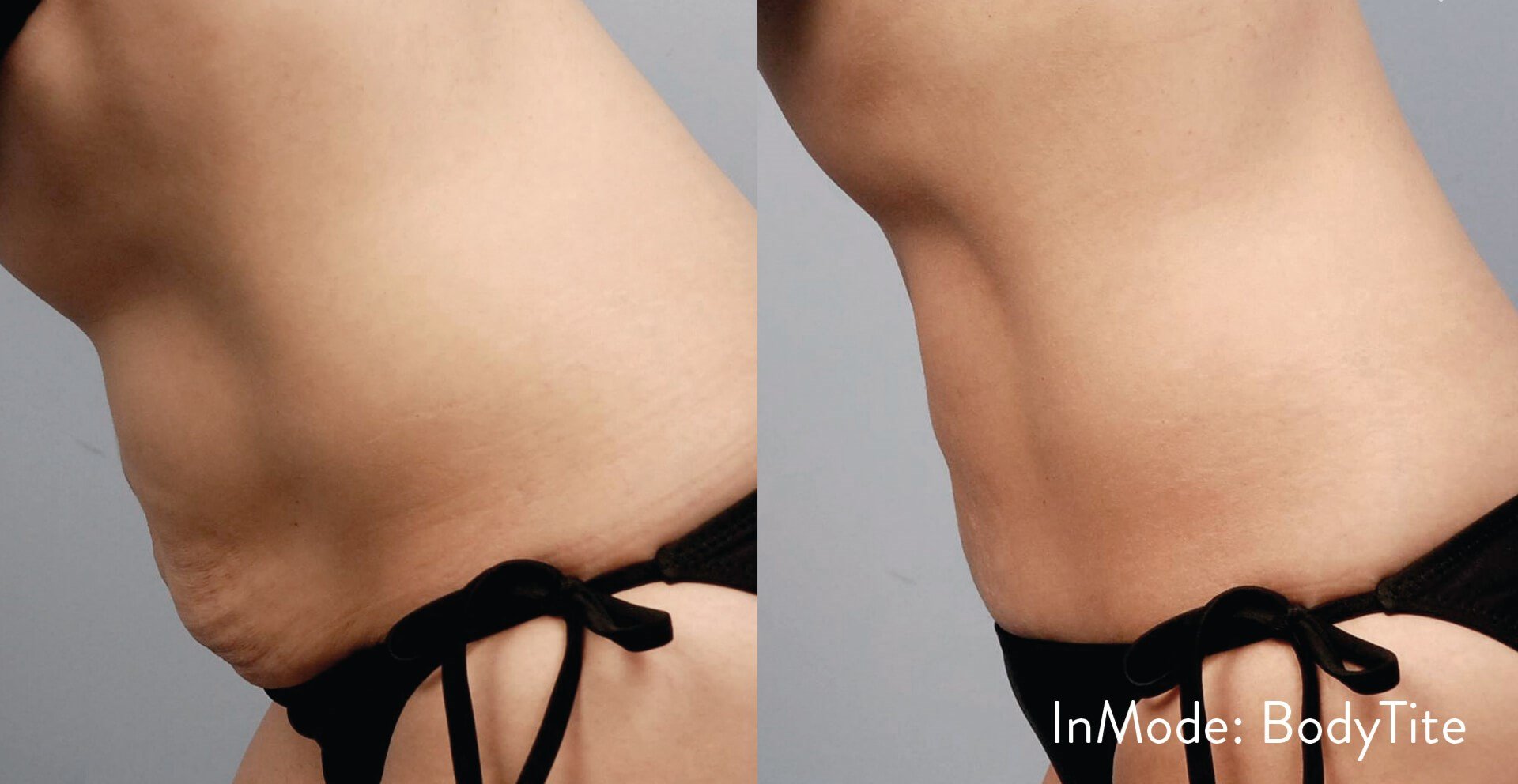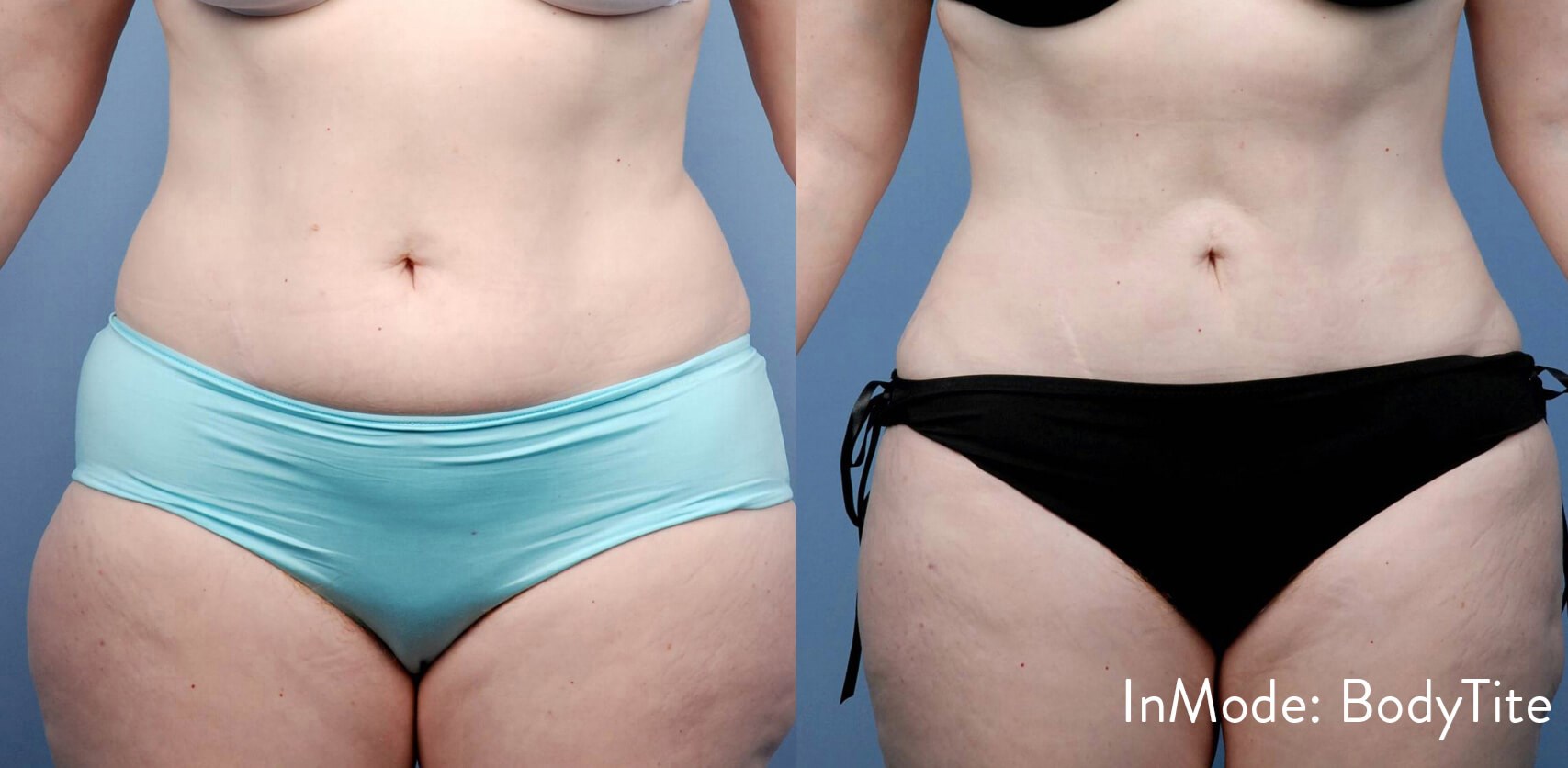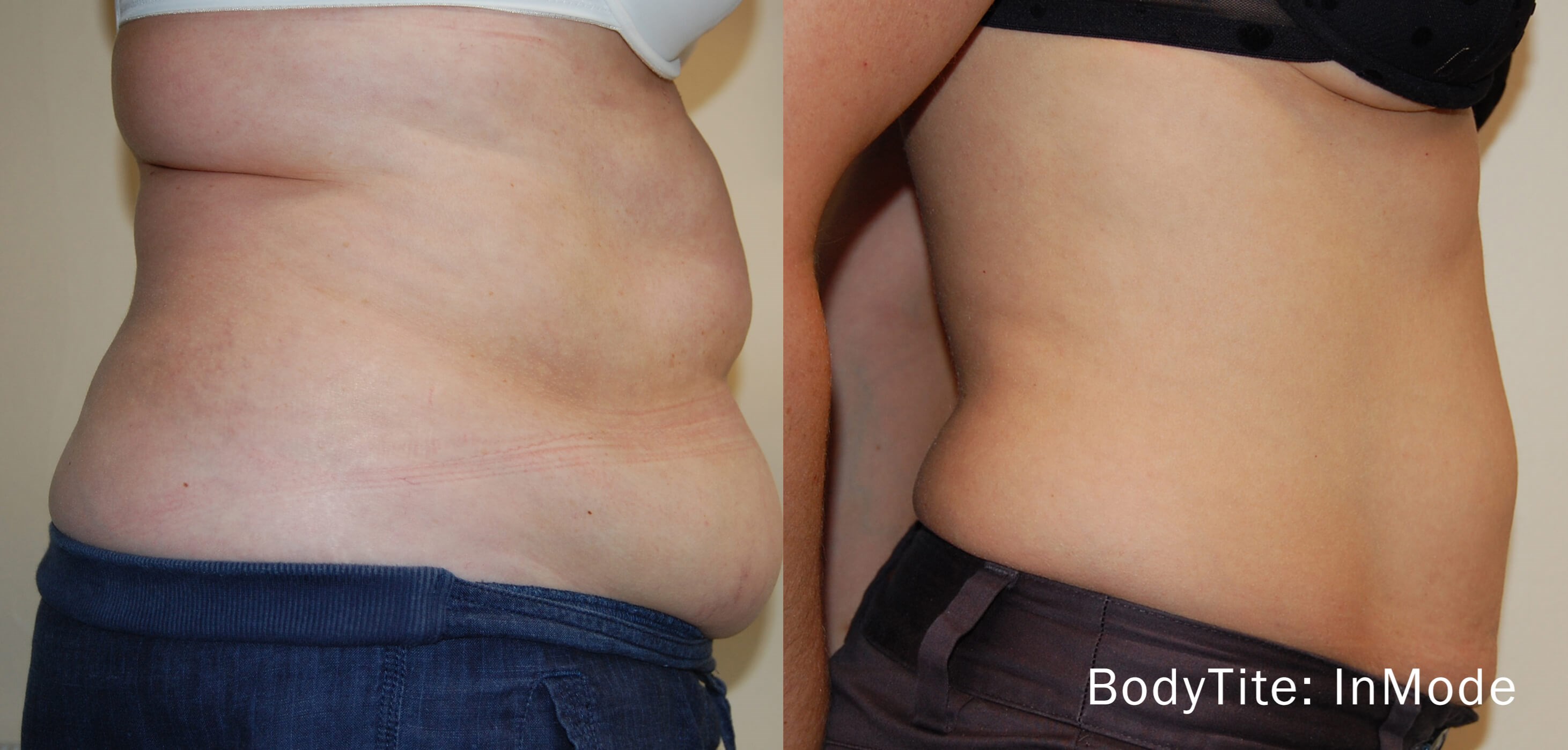 Plan Your Procedure
Recovery Time

2 – 10 days

Procedure Recovery Location

Outpatient
Contact Us
Are There Visible Results?
You will see significant improvements in your body shape and skin tone with optimal correction achieved at 4 - 6 months.
Treatment time depends on the area or areas being treated, but you should plan to be in the office for 4 hours. With BodyTite PRO, treatment times are faster than any other energy-based device on the market.
Normally, only one BodyTite PRO session is required. Liposuction or other cosmetic procedures may be recommended in conjunction with BodyTite to maximize your results. During your consultation, we will develop your personalized treatment plan based on your aesthetic goals.
Is BodyTite Better Than Lipo?
BodyTite is different than traditional surgical liposuction because it also improves the tone of your skin. BodyTite is also minimally invasive, requiring much smaller incisions and less downtime.